Youth Protection Standards
An Analysis of Youth Protection Standards in National Youth-Serving Organizations
Organizations serving youth and vulnerable adults play a critical role in protecting their consumers from abuse and misconduct. Over the past several years, organizations of all kinds have begun increasing and updating their standards on youth protection to ensure safety and consistency across all programs. Trends suggest that requirements for youth protection standards will only continue increasing to ensure consumers are protected from incidents of abuse. To analyze these trends further, Praesidium conducted a first-of-its-kind benchmarking analysis of ten national federated youth-serving organizations and their current youth protection standards.
Federated Youth-Serving Organizations
Praesidium partners with a variety of national federated youth-serving organizations that require specific youth protection standards for their member entities. In federated organizations, the national body oversees state and local entities that are independently incorporated. Local entities are comprised of their own Board of Directors, CEO, staff, and volunteers. These federated organizations significantly impact what is considered "industry standards."
Typically, in federated organizations, a national office provides local entities with strategic vision, resources, and membership requirements that all entities must comply with to be part of the national organization. Membership requirements cover a variety of areas such as finance, marketing and branding, risk management measures, and youth protection standards. Most federated organizations have drastically shifted their position on having youth protection requirements within the last several years. Changes range from some organizations establishing requirements for the first time to others significantly strengthening their current requirements.
Methodology of Analysis
Praesidium analyzed the membership requirements of ten national federated youth-serving organizations (YSOs) to compare what is required of all their local entities. Collectively, these YSOs have over 15,000 entities and serve more than 20 million youth. Praesidium first reviewed each of the YSOs' membership requirements to identify trends, which were then organized by the relevant operation within the Praesidium Safety Equation®. Additionally, Praesidium analyzed each YSO's national board member requirements. As described below, notable trends were identified in each operation.
Each organization receives a "yes," "no," or "partial" score for each Praesidium standard measured. "Yes" means the organization fully meets the standard, "no" means the organization did not meet the standard, and "partial" indicates the organization is meeting part of the standard.
Overall, the analysis indicates that national YSOs are raising their standards on abuse prevention. See below for more detail on each standard that was evaluated and updated as of April 2023.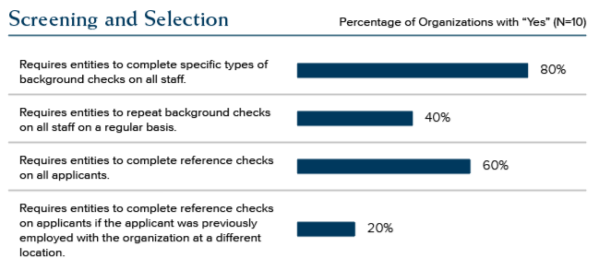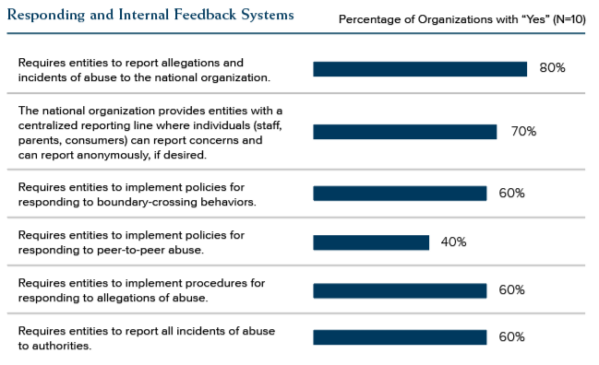 Conclusion
Over the past several years, national federated organizations were initially hesitant to create and enforce youth protection standards for their entities. Now, organizations are held to higher standards on abuse prevention by a variety of individuals including their national governing bodies, insurance companies, and grantors, to name a few. Additionally, Praesidium is seeing urgency in national and federated organizations to continually raise their standards and enforcement; trends suggest that YSOs will continue to raise youth protection standards in the coming years.